How does unripe mango taste?
mango
In my opinion, mangoes taste best raw, but the exotic fruits are also often used to make jams and juices.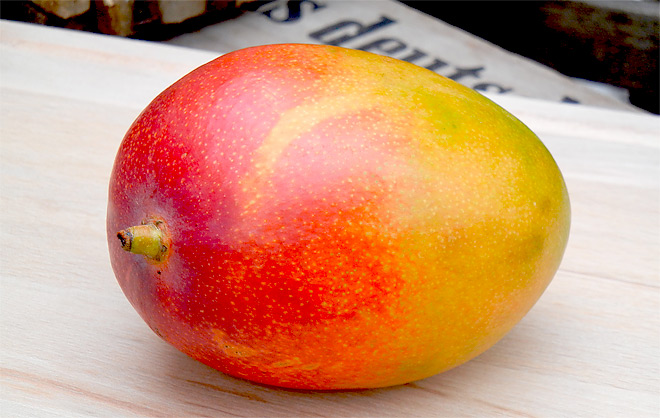 Mangoes are the Apples of the tropics. The variety of varieties in particular is similar to that of apples. Nowadays, over 1,000 different mango varieties are grown with pleasure. In this country, however, we only find a tiny fraction of this selection in our fruit counters. In order to be able to enjoy fresh mangoes all year round in our regions, however, these are harvested unripe and have to ripen vigorously on the way to our fruit dealers.
However, when they are ripe, they taste downright delicious! I love the taste of a fully ripe mango. Slightly sweet and juicy, its taste is reminiscent of peach, pineapple and pumpkin.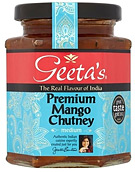 *
A spice paste made from mangoes, which goes under the name Mango chutney is known. A spicy mango chutney tastes great with briefly fried meat, for example as a delicious sauce with fondue or raclette or mixed with a curry or rice dish. The spice paste also tastes wonderfully fruity with cold roasts, cheese or fish.
Such a chutney tastes best if you make it yourself ... but also some ready-made mango chutney from the glass tastes excellent if you don't have the time to simmer it yourself ...
How do you recognize a ripe mango?
The color of a mango says nothing about the degree of ripeness of the fruit. To find out whether a mango is ripe for consumption, light pressure with your finger helps. A ripe mango should give a little when you press your finger and give off a delicate scent.
Unripe mangoes not only taste bland, but also give off a rather unpleasant scent of turpentine. So you should definitely make sure that the mango is really ripe before you eat it.
ATTENTION: The mango peel is poisonous!
Mangoes MUST be peeled before consumption. The waxy, firm shell is inedible and poisonous. It contains a toxin that irritates the mucous membranes. A potato peeler is best for peeling the mango.

Vegetable peeler with movable blade ... by Famos

*
Incidentally, the seeds of the mango are just as poisonous. You can then easily plant it and grow a pretty mango tree for your winter garden.
Mangoes are very healthy and easy to digest
From a health point of view, the mango is a real jack-of-all-trades. Particularly noteworthy is the high vitamin A content of a mango. Just 100 grams of mango cover half of our daily vitamin A content. So you only need to eat a single mango a day to meet your full vitamin A content. But the vitamin C content is also relatively far ahead at 39 mg per 100 grams of fruit. An apple, on the other hand, can only contain 12 mg of vitamin C per 100 grams of fruit.
Mangoes are easy to digest and are made from Toddlers already well tolerated.
Because of the balanced mix of minerals and low acid content, even those with sensitive stomachs can usually eat mangoes without any problems.
How do you eat a mango outside of the bathtub?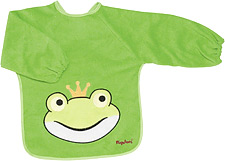 Sleeve bib
to avoid
of mango spots

*
A ripe mango is extremely juicy and, on top of that, very slippery. After peeling a mango, I always have the feeling that I have a wet bar of soap in my hand. In addition, the closer you get to the mango stone, the more fibrous the pulp becomes and these fibers are very firmly connected to the elongated mango stone. Unfortunately, this stone cannot be screwed out of the fruit as easily as we know it from a peach, for example ...
Since the mango juice likes to leave stubborn stains on the laundry, in the home countries of the mangoes the children are supposedly poodle-naked in the bathtub to eat a mango, which has given the mango the nickname "bathtub fruit". A Schlabberlatz ... preferably with sleeves ... but certainly does its job just as well ;-)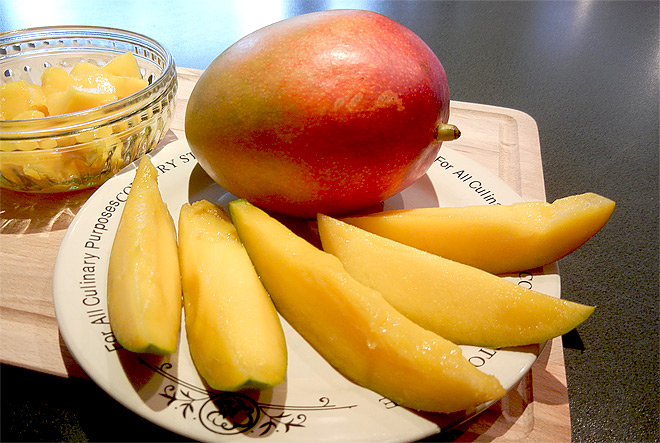 Mango cut into wedges
As a passionate mango eater, I have tried two different variants and can recommend both. In the variant I prefer, I do the following:
Score the mango like a melon in long wedges with a sharp knife
cut off the individual wedges from the mango near the stone
Cut the fruit wedges out of the skin with a knife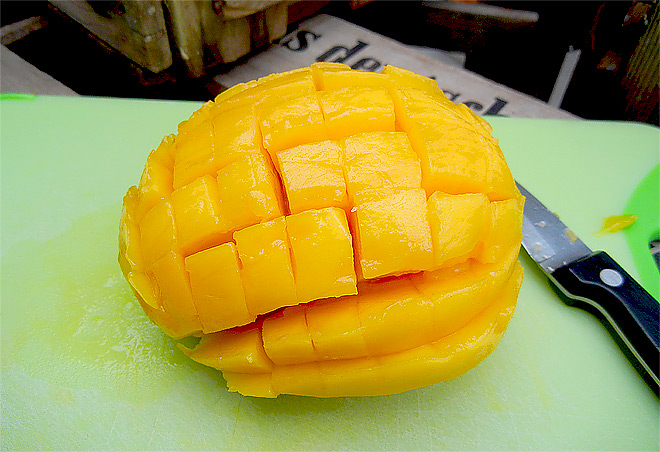 Mango diced on top of the mango
You can also cut the columns into small cubes and then eat them.
Another method to cut the mango into edible pieces is to "dice" it on the stone:
Peel the mango all around with a peeler
Score one side of the mango with a sharp knife into many small cubes
lever out the cubes with a small cake fork
then work the other side of the mango in the same way
This variant also looks good on a dessert plate, but is the much more mushy affair ;-)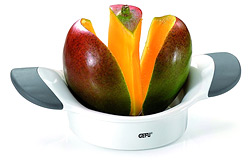 Mango corer
So you come
quick and clean
ans delicious pulp

*
If you want to add another device to your kitchen inventory, you can also get a special one Mango corer gain. With the help of such a tool, the preparation time of a mango can of course be significantly reduced.
With the help of a specially shaped, sharp blade you can cleanly and quickly separate the pulp from the mango core with this mango pitter. Then it is child's play to spoon out the two halves of the mango like a kiwi or to separate them from the peel with a knife and cut them into cubes or wedges.
With a regular, high consumption of mango, this purchase will certainly pay off at some point.
How heavy is a mango?
Depending on the variety, a mango fruit can weigh up to 2 kilos. So far I myself have caught rather small mangoes, each weighing only about 400 grams.
Nutrients per 100 g / ml mango
---
Note on the nutritional information:
The nutritional content of fresh food can vary greatly depending on the variety, degree of ripeness or method of preparation. Therefore, the nutritional information given is only a rough guide.
Link tip: on the subject of mango
What does an asterisk after a link mean?
*) This link is a so-called affiliate link. That means, the link leads you to one of my partner programs. If you order something there based on this link, I will receive a commission from my partner as a thank you for this product recommendation (advertising). Of course, this has no effect on the price for you. You support the maintenance, further development and maintenance of my website. Many Thanks :-)




Sources and further reading