Noor al jabal halal meat wholesale

.



Success with halal sausages


Jörg Schwarting looks back on 25 years of successful work. The slaughterhouse in Bookholzberg has become a specialized company for processing beef and lamb, especially for Muslim sausages.
In 1990, Jörg Schwarting, at the age of 19, took over a slaughterhouse in Bookholzberg. When he started with five employees, the focus was on cutting up meat.

Today, Schwarting Vieh- und Fleisch Handels GmbH, located at Weserstraße 2 in Bookholzberg, impresses with modern technology. More than 20 years ago, the entrepreneur specialized in the slaughter, cutting and processing of beef and lamb from animals, which are mainly obtained from the regional area of ​​Northern Germany.

The entrepreneur made a name for himself in the Muslim culture with the manufacture of meat and sausage products that comply with the special regulations of the Islamic faith. Today they are well represented in this market and produce halal sucuk, halal bratwurst, halal virsele, hala hamburgers and halal cevapcici. Dried beef is produced in a special process. After long processing, high-quality beef is subjected to a twelve-hour smoking process. It then resembles a beef ham.

The company has been EU certified since the beginning of 2008 and exports to various European countries via wholesalers. The goods produced are also sold through our own shops in Bremen (three shops) and Wilhelmshaven. There is also direct sales in Bookholzberg.

The company is not only multicultural when it comes to sales. The 50 employees come from a wide variety of cultures and countries. Schwarting GmbH is known for its good technical equipment. New devices are constantly being purchased to make work easier.
There has been no slaughter on Weserstrasse since this year. "I stopped slaughtering because I need the space for sausage production. In Thomas Frank from Oste-Fleisch GmbH, I have found a trustworthy partner who continues to look after the farmers and who is on the road for the cattle, "explains Jörg Schwarting. The partner company is Halal certified. Schwarting has a 50 percent stake in it.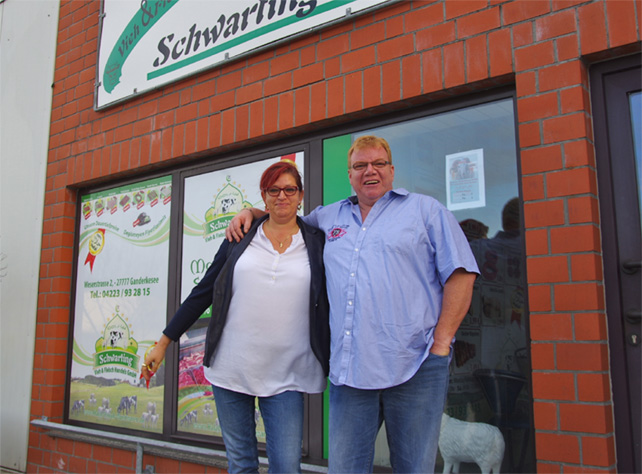 Brigitte and Jörg Schwarting have successfully filled a niche in the market by specializing in the processing of beef and lamb
Photo: gri

Cookies are stored on our website!
>> Here you can find the data protection regulations


Telephone number office 0 42 23 - 2807