Hector Lavoe Bandolera Descargar WhatsApp
TOP 500 Salsa Songs of All-Time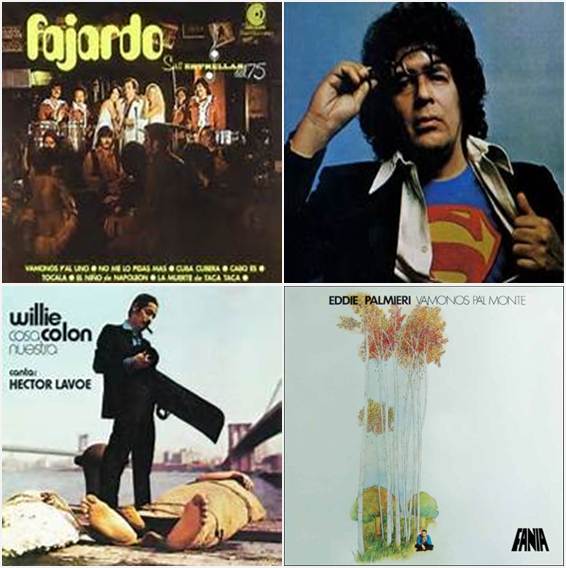 Por. Nelson Rodríguez
Julio del 2014
During the last four decades of my life, I have had a chance to see almost every artist of this 'Top 500' list perform their best hits live, hear them on the original recordings and / or 'Best of / Greatest Hits' compilations, and, of course, on radio. We all learned over the years which songs best identify the artist. They are the songs we all sing to, and the tracks that remind us of the good old days, that amazing concert, or dancing at a club or festival. I remember running home with a new record and putting it on the table and instantly knowing this was going to be a huge hit - at least in my house. As a DJ, I knew that particular song would be spinning on my turntable at my next gig.
They were the hits that defined an era, and for many of us the Fania era played a major role in almost any list that I have seen in the past four decades, with the exception of maybe the past five years, when internet and lists have appeared and are mostly comprised of a younger generation of bloggers and websites that were not exposed to the 60's through the 80's.
Early AM radio (especially commercial radio) in the 70's and 80's had a huge influence on me and this list. Non-commercial radio became an even bigger factor to me from the late 70's through today, because they not only reinforced what the biggest all-time hits were, but in most cases had no biases - just a love for the music as it should be.
These non-commercial warriors confirmed what the commercial and non-commercial radio shows played a decade earlier. My pioneers were Symphony Sid, Dick 'Ricardo 'Sugar, Joe Gaines, Roger Dawson, and Felipe Luciano in New York.
When I first saw 'best of the year' lists in magazines, I believed what I read was the best, but over time realized that these lists - any 'Top 10', 'Top 100', 'all-time best', 'best of the decade' - are subject to the particular likes of the author of the list or column, and what were THEIR favorites.
While the list I have comprised has well over 90% of the songs that have made hundreds of playlists, they have been played on radio for many decades and are considered the true all-time Salsa classics. Keep in mind it is my list - my favorites, as you surely have yours.
All of 500 have been hits, and include songs that defined various eras and represent the best in 'Salsa Dura' and 'Salsa Romántica.' They influenced my childhood, my DJ days, and my playlists at radio to this day. The arrangements and lyrical messages had much to do with them being my all-time favorites.
This, of course, is a list of my favorites, and your favorites may be here but in a different order. But this list is also a great way to introduce a newer generation to the awesome Salsa arrangements of all-time. Believe it or not, 500 songs were not easy to select when you have so many to pick from. I chose these 500 hits from a list of over 3000 Hall Of Fame tracks that also include Boleros, Merengues and Latin Jazz. I do have another article on Merengue with my favorites, the best Latin Jazz recordings, as well as a Bolero listing for future articles. At the close of this article, I am half way on an article on Salsa Romántica, its impact, and my favorites for you to enjoy and mull over.
For now, I hope you enjoy this list and let us know what your favorites are!
TOP 500 Salsa Songs of All-Time
1. Eddie Palmieri - Vámonos Pal Monte (just the opening conga and organ riffs set me off)
2. Willie Colon / Héctor Lavoe - Che Che Cole (my happy song when I was 14 years old)
3. Ray Barretto - Indestructible (from my first favorite Barretto album)
4. Eddie Palmieri - Puerto Rico (the realization of my PR roots)
5. Fajardo y sus Estrellas - Tócala (my favorite descarga)
6. Tito Puente - Para Los Rumberos (my love for Puente came when I heard this song)
7. Machito y sus Afro Cubans - Tanga (horns that introduced me to the "arrangement")
8. Fania All Stars - Juan Pachanga (All - Stars at their height with the great Rubén Blades)
9. Orchestra Broadway - Isla Del Encanto (my # 1 for many years)
10. Orchestra Harlow - Señor Sereno (my introduction to the many great Jewish musicians)
11. Conjunto Libre - Lamento Borincano (a classic with the New York flavor)
12. Tito Rodríguez - El Que Se Fué (my favorite tune from my favorite vocalist)
13. Cortijo y su Combo - Quítate De La Vía, Perico (another fun song at a 60's house party)
14. Típica 73 - La Candela (one of my Top 10 bands of all - time)
15. Willie Colon / Héctor Lavoe - Abuelita (always reminds me of my visits to grandma in PR)
16.Tito Puente - Ran Kan Kan (loved all the versions)
17. Oscar D'Leon - Me Voy Pa'Cali (the best club hit with virtually no commercial airplay)
18. Ismael Miranda - Borinquén Tiene Montuno (homage to PR)
19. Eddie Palmieri - Adoración (Ismael Quintana was my favorite during this time)
20. El Gran Combo - Un Verano En Nueva York (best homage to my NY)
21. Tito Rodríguez - Cara De Payaso (Big Band at its best)
22. Ray Barretto - Vale Más Un Guaguancó
23. Sublime - Coqueta
24. Willie Colon / Rubén Blades - Pedro Navaja
25. Eddie Palmieri - Un Día Bonito
26. La Solución - La Rueda (my introduction to a good friend Frankie Ruiz)
27. Richie Ray y Bobby Cruz - Aguzate
28. Willie Colon / Héctor Lavoe - Barrunto
29. Tito Puente - Complicación
30. El Gran Combo - Brujería
31. Orchestra Harlow - Arsenio (best tribute to El Ciego Maravilloso)
32.Sonora Ponceña - Rumba En El Patio (when I first fell in love with the Ponceña sound)
33. Bobby Valentín - Júrame
34. Eddie Palmieri / Cheo Feliciano - Anacaona
35. Ray Barretto - Ban Ban Quere
36. Angel Canales - Ana Isaoco
37. Héctor Lavoe - Mi Gente (as well as the Fania All - Star live version)
38th Fania All - Stars / Rubén Blades - Sin Tu Cariño (one of Rubén's best)
39. Tito Nieves - Fabricando Fantasias (the best from this last decade)
40. Celia Cruz / Johnny Pacheco-Quimbara
41. Tito Rodríguez - Mama Guela
42. Grupo Niche - Cali Pachanguero (another club dance gem)
43rd Puerto Rico All Stars - Reunión En La Cima (challenge to FAS)
44. Charanga Casino - Soñador (took charanga and the SAR label to a new height)
45. Luis 'Perico' Ortiz / Rafael de Jesús - De Patitas
46. ​​Oscar D'Leon - Mi Bajo Y Yo (the big hit just before I met him at TH Records)
47. Típica 73 - Yo Bailo De Todo (from my favorite T - 73 álbum)
48. Roberto Roena y su Apollo Sound - El Que Se Fue (my favorite cover version)
49. Isidro Infante - La Mitad De La Isla / Te Conozco Mascarita (the best of the 90's)
50. Joe Cuba Sextet - A Las Seis (the premiere sextet sound)
51.Bobby Valentín - El Jibaro y La Naturaleza (my intro to another friend Marvin Santiago)
52. Héctor Lavoe - Periódico De Ayer
53. Celia Cruz / Willie Colon-Usted Abuso
54. Tito Rodríguez - Vuela La Paloma (a favorite of my parents)
55. Orquesta Guayacán - Señora Mia
56. Sonora Ponceña - Canto Al Amor
57. Willie Colon / Rubén Blades-Pablo Pueblo
58. Frank Bello - Carta A Una Madre (the best mother's day song for me)
59. Jerry Rivera - Fresco
60. Joe Arroyo - En Barranquilla Me Quedo (the best from Colombia's giant of the 80's)
61. Ray Barretto - Que Viva La Música (a national anthem for many)
62. El Gran Combo - Telephone
63. Héctor Lavoe - El Cantante (the song and seeing him showed realism in his life)
64th Dimension Latina / Oscar D'Leon - Lloraras
65. Eddie Palmieri - El Día Que Me Quieras (the best LP with only 5 songs on it)
66. Orquesta Guayacán - Ay Amor, Cuando Hablan Los Hombres
67. Fania All Stars / Cheo Feliciano - Canta
68. Luis Enrique - Lo Que Paso Entre Tú y Yo
69. LeBron Brothers - Salsa Y Control
70. Charlie Palmieri - La Hija De Lola
71. Tommy Olivencia - Lo Dudo (when I first heard Frankie Ruiz 'voice and first hit at TH)
72. Joe Cuba Sextet - Mambo of The Time (first English / Spanish intro for me)
73. Willie Rosario - Si No Estás Conmigo (from the Salsa Legend LP with many great vocals as Primi Cruz, Bernie Perez, and Josué Rosado)
74. Don Gonzalo Fernández - Canción A Un Individuo
75. Son De Cali - Te Amo
76. El Gran Combo - Vagabundo
77. Lalo Rodríguez - Ven Devórame Otra Vez
78. Frankie Ruiz - El Camionero
79. Sonora Ponceña - Bomba Carambomba
80. Johnny Pacheco - Agua De Clavelito
81. Beny More - Francisco Guayabal
82. Tito Puente - Babarabatiri (also enjoyed Machito and Willie Rosario's versions)
83. Willie Rosario - Lluvia (yes, better than the Cuban version)
84.Don Gonzalo Fernández - Repicao (a true unsung hero)
85. Tito Rodríguez - Chévere
86. Típica 73 - La Botija De Abuelito
87. Sociedad 76 - La Solucion de la Salsa
88. Irakere - Dile A Catalina
89. Willie Rosario - Chango Ta 'Beni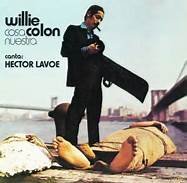 90. Ismael Quintana - Mi Debilidad (also good with the FAS)
91. Fania All - Stars - Ponte Duro (the best Roberto Roena improvisation)
92. Roberto Roena y Su Apollo Sound - Traición
93. Grupo Folklórico y Experimental Nuevayorquino - Anabacoa
94. José Mangual Jr. - Campanero (genius of a cowbell solo)
95. Eddie Palmieri - Justicia (true talk about the music industry)
96. Pedro Conga - Si Supiera
97. Héctor Lavoe - El Todopoderoso (my first exposure to a religious message)
98. José Mangual Jr. - Cuero Na'Ma
99. Marc Anthony - Hasta Que Te Conocí
100. Ray Barretto - Cocinando
101. Willie Colon / Héctor Lavoe - Calle Luna, Calle Sol
102. Tito Puente - Niña y Señora
103. Justo Betancourt - Pa' Bravo Yo
104. Frankie Ruiz - La Cura
105. Fajardo y sus Estrellas - Ahí Ma 'Ma
106. Joe Arroyo - Pal Bailador
107. Pete 'El Conde' Rodríguez - Catalina La O
108. Richie Ray y Bobby Cruz - Sonido Bestial
109. Mongo Santamaría - Sofrito (while mostly instrumental, it did well at radio and clubs)
110. Pacheco y su Charanga - Acuyuye
111. Sonora Ponceña - Sonora Pal Bailador
112. Marc Anthony / India - Vivir Lo Nuestro
113. Louie Ramírez-Paula C.
114. Willie Rosario - Botaron La Pelota
115. Tito Puente - El Cayuco
116. Eddie Palmieri - Muñeca
117. Johnny & Ray - Bandolera
118. Ray Barretto - Canto Abacua
119. Willie Colon / Héctor Lavoe - La Murga (de Panama)
120. Fania All - Stars / Ismael Quintana - Piano Man
121. Roberto Roena y su Apollo Sound - Que Se Sepa
122. Ismael Rivera y sus Cachimbos - El Nazareno
123rd DLG - Triste y Solo
124. Joe Cuba Sextet - El Pito (I'll Never Go Back To Georgia)
125. Los Van Van - Sandunguera
126. Sonora Ponceña - Wed Lindo Yambú
127. Pedro Conga y su Orquesta Internacional - Ven Conmigo Corazón
128. Tito Rojas - Nadie Es Eterno
129. Ray Barretto - Guarare
130. Charanga America - Ayudame San Antonio
131. Orquesta Guayacan - Torero
132. Noche Caliente - Estar Enamorado
133. Willie Colon / Héctor Lavoe - Todo Tiene Su Final
134. Celia Cruz / Johnny Pacheco-Cucala
135. Conjunto Clásico - Pau Pau
136. Willie Rosario - Busca El Ritmo
137. Eddie Palmieri - Oye Lo Que Te Conviene (2 great versions, the other one with Lalo Rodríguez)
138. Pete El Conde Rodríguez - Pueblo Latino (also a great 'live' version with FAS)
139. Machito y sus Afro - Cubans - Zambia (or Zambia)
140. Roberto Roena y su Apollo Sound - Mi Desengaño
141. Willie Colon / Héctor Lavoe - Panama
142. Sonora Ponceña - Boranda
143. Oscar D'Leon - Bravo De Verdad
144. Ray Barretto - El Hijo De Obatalá
145. Típica 73 - Pa'Gozar
146. Charanga 76-Soy
147. Luis Enrique - No Le Amas Le Temes
148. Johnny Pacheco - Esa Prieta
149. Eddie Palmieri - Revolt / La Libertad Lógico
150. Tito Rodríguez - Cuando, Cuando, Cuando
151. Sonora Ponceña - Yambeque
152. Tommy Olivencia - Trucutu
153. Conjunto Chaney - Esto Es Amor
154. Celia Cruz / Johnny Pacheco-Toro Mata
155. Eddie Palmieri - Nada De Ti
156. El Gran Combo - Timbalero
157. Luis Enrique - Desesperado
158. Tommy Olivencia - Mujeres Como Tu
159. Celia Cruz / Ray Barretto - Nadie Se Salva de la Rumba
160. Alegre All Stars - Manteca
161. Batacumbele - Se Le Ve
162. Gilberto Santa Rosa - La Agarro Bailando
163. Orquesta Aragon - Cachita
164. Tito Rodríguez - Yambu
165. Willie Colon / Héctor Lavoe - La Banda
166. Eddie Palmieri - Pa'Huele
167. Sonora Ponceña - Timbalero
168. Harlow Orchestra - Señor Botánico
169. Pete 'El Conde Rodríguez - Soy La Ley
170. Willie Rosario - El Timbal De Carlitos
171. Gene Hernández y Novedades - Siempre
172. Willie Colon / Ismael Miranda - No Me Digan Que Es Muy Tarde
173. Willie Colon / Rubén Blades - La Maleta