How to build a brick vaulted ceiling
Build a seating area yourself: instructions and ideas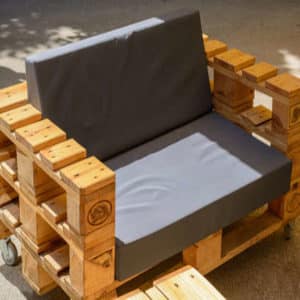 A nice sitting area doesn't have to be expensive. With a little craftsmanship, you can certainly build a seating area yourself. In the following, some ideas with a blueprint and instructions are presented, which can also be implemented by less experienced do-it-yourselfers. If you want to build the most affordable seating area possible, Euro pallets are the building material of choice. 12 pallets are required to build a seating area. Furthermore you need metal straps, screws and seat cushions for the self-construction. Since the pallets are too wide for a seating area, they should be sawn to size before assembly.
advertising
Build a seating area yourself from pallets

First, the pallets are sawn off lengthwise, directly behind the middle support blocks. The pallets then have a width of approx. 47 cm. It shouldn't be too difficult to get suitable seat cushions for this width. If you want to build a couch-like seating area, you can of course leave the pallets in their original width of approx. 80 cm. However, it should be a little more difficult to get seat covers for this width.
Then two pallets are connected lengthwise with metal straps. Two more pallets are then stacked on these two pallets and screwed to the pallets below. This whole procedure is now repeated and the same pallet structure is built again.
Now the two pallet blocks are arranged in a corner. All you have to do is put the seat covers on it. The pallet seating area is ready! This type of seating area can also be used outdoors on the balcony or terrace. However, you should then paint the pallets with wood protection paint so that they can withstand the weather for longer.
How to make a coffee table to match the seating area yourself is described in the article "Make your own coffee table".
advertising
Build a bricked seating area yourself
Aerated concrete blocks can be used to wall the seating area, which are quite cheap and also very easy to work with. The aerated concrete blocks are bricked with thin-bed mortar. After the masonry, the seating area is tiled with tiles.
Since aerated concrete blocks are not very pressure-resistant, the seating area is solidly bricked. For this purpose, aerated concrete blocks with the dimensions 62.5x25x25 cm are used. As can be seen from the construction plan, 2 aerated concrete blocks are built next to each other so that the seating area has a seat width of approx. 50 cm. The length of the seat can be adapted to personal needs. If necessary, you can saw the aerated concrete blocks with a saw.
On top of the first row of aerated concrete, another row of stones with the dimensions 62.5x25x20 cm is now bricked up horizontally. That means you get a height of approx. 45 cm. This height is ideal for a sitting area.
After the thin-bed mortar has dried, preparations for laying tiles can begin. First, the aerated concrete is cleaned of loose material with a broom. So that the tiles adhere to the aerated concrete, the aerated concrete surfaces should be painted with a special primer.
The laying of the tiles on the seating area can then be done in a conventional manner. If you want to lay a tile pattern on the seating area, the article "Laying tiles pattern" may be of interest.
advertising
Build your own furniture categories