How to revoke access to Twitter
Instagram Hack: How to Hack Instagram Account (No Survey & No Download)
Has your significant other been spending too much time on Instagram recently after sleeping? Or maybe your child got their first phone and you noticed that they just started using Instagram?
These scenarios can create doubt and fear in a person's mind when their partner or children spend too much time in the online world. After all, online predators and cheating spouses are not uncommon these days.
If only there was a way to hack Instagram and check out what they're capable of.
Well what if I told you there is a way to hack Instagram within minutes? The first thing you might think is that it is impossible. The second thing could be that it would take a lot of coding knowledge.
Actually, hacking Instagram can be a breeze if you follow this guide carefully. You wouldn't need any software knowledge of any kind. You may not even need access to the target device!
Part 1: How to Hack Instagram Account No Survey
The online world is full of robbers, scammers, and so many other types of bad elements. You always need to protect your partner or child. They may know better than they do.
That is why it is a good idea to keep an eye on your social media habits. And that's not just a one-time thing. You may need to check their social media accounts regularly to see what they're up to.
I know you figured that out already. You may have searched for a way to easily hack Instagram for a long time, but to no avail. You've probably even tried one of those lame hacking tricks that do nothing but waste your time.
Your search ends here. Try the Instagram hacking tricks that I mention in my guide today. You never need any other hacking solution for Instagram, Facebook or anything else.
1.1 Spyic - The all-purpose Swiss Army Knife for chopping
If you want to know every little thing about the other user's phone data, Spyic is your best friend.
Spyic is a phone monitoring tool that can help you hack all of the other person's social media accounts. Not only that, it can give you call records, call recording, messages, and even the other person's live location.
Sounds unbelievable? Well, I thought like you when I first heard about it. But then I checked Spyic in action on this. I wish I knew sooner that there was such a thing as Spyic.
Here are some of the things Spyic can do that will blow your mind:
Keylogger
Spyic can track every keystroke made by the target user. This even includes the credentials they use to log into Facebook, Instagram, Snapchat, etc. Here's how you can use Spyic to hack Instagram without password.
News monitor
Spyic stores all messages sent or received by the device. Even if the message is deleted from the device itself, Spyic will still have it.
Social media monitor
Spyic has special tabs for various social media platforms. It keeps a record of pages visited, chats, and anything else you might need.
Call monitor
Spyic gives you all the call details of all calls made and received by the device. These details include caller identity, call duration, time of call, etc. Not only that, it even analyzes the data and gives you a list of the most frequently contacted callers.
Photos and videos
Spyic will allow you to access all photos and videos on the target device. This gives you a clear idea of ​​what the other person was up to.
Application monitor
Spyic allows you to check all the applications that are installed on the target device. You can even set restrictions on the use of each application. You can limit the time your kids spend on Instagram through Spyic.
I could go on and on about its properties as there are so many to list. Well, you get a general idea. Spyic possibly has EVERYTHING that can be found in a phone hacking service.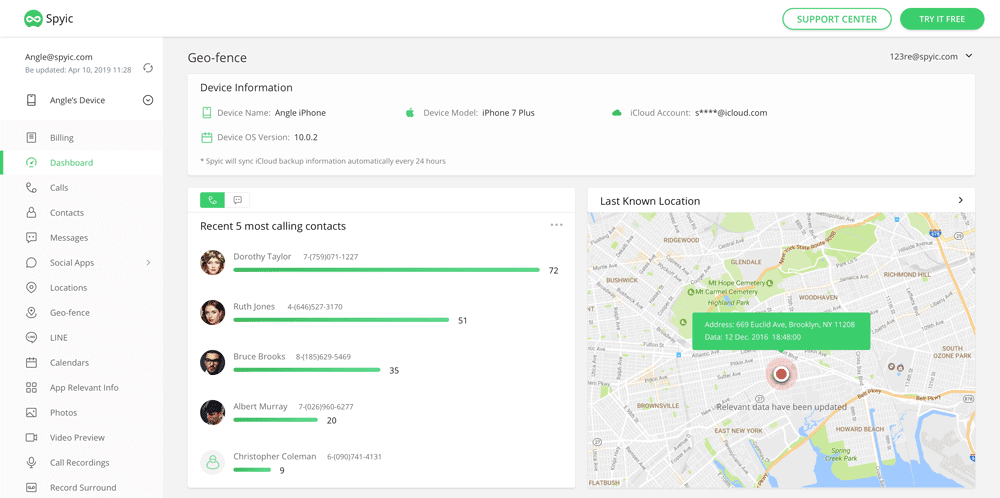 Why should you use Spyic and nothing else?
The answer to this question is simple. When you use Spyic, you don't need anything else. But you don't have to take my word for it. Here is a list of the features offered by Spyic.
And you don't just have to read about the features. Check out this live demo and check it out for yourself.
See for yourself what it puts on the table:
No jailbreaking or rooting
Spyic doesn't require you to jailbreak or root your device. Most of the hacking apps in the world require you to jailbreak or root as the first step. However, Spyic cares about your comfort and safety.
No app downloads
Spyic doesn't ask you to download a trillion apps on your phone. You wouldn't even need one. You can conveniently view the logs in any web browser from the Spyic dashboard.
Easily accessible dashboard
You wouldn't have to spend hours looking for a specific feature. Spyic's functions are conveniently integrated into the dashboard tabs. All you have to do is a single click and voila, you are good to go.
Pricing model
Spyic subscription plans are so cheap that I could get a subscription even if I was broke (which luckily I am no longer). I suggest that you go for the annual package. Save the hassle of monthly renewals (and get a discount as a bonus).
No physical access
This is my favorite part about Spyic. You will not be prompted to access the target device repeatedly. For Android you only need one-time access. You don't even need that for the iPhone.
Easy installation and operation
You don't have to be a tech savant to install or use Spyic. It basically does all the work on its own. All you have to do is a few clicks here and there. It will get everything ready for you in just a few minutes.
Serious app
Spyic has over a million users worldwide. When you use Spyic, your data and logs are completely safe. It's the top rated phone hacking app out there for a reason.
I know you are eagerly waiting to get your hands on Spyic and get started right away. Here's how you can use it to hack Instagram in a few simple steps:
1.2 How to Hack Instagram Account Without Coding
Hacking Instagram is a breeze with Spyic. You can do this in minutes by following these simple and easy steps:
Subscribe to our Spyic e-contract. You can do this by following this link.
Once you're signed in, you'll be asked to choose your target device between iOS and Android (yes, Spyic will work on both).
You will now see the price plans for your selected device. Buy a plan of your choice. You can use different plans to monitor different devices.
The setup guide will walk you through the simple process. There is not much to be done. Just fill in the basic information she asks.
a.) For Android, you need to download the Spyic app on the target phone. Don't worry, this app runs in stealth mode. You can download it and install it from the link in the setup wizard.
b.) For the iPhone, you don't need the target phone at all. All you need is the iCloud credentials. Check these credentials in the setup wizard.
Spyic will take a few minutes to download the data. Once done, everything is at hand. Discover different functions on the Spyic dashboard.
Hacking Instagram Online by Spyic
Once you have access to the Spyic dashboard, there are a number of ways you can hack someone else's Instagram account. You can check these possibilities out for yourself in the live demo.
This includes:
Spyic 'Instagram spy
Spyic prioritizes your convenience over everything else. Because of this, it has a built-in Instagram spy module. You can find it under the Social Apps tab on the dashboard.
His Instagram spy tracks all of the target user's Instagram activities. That even includes the messages they received and the response they received.
And the best? All of this happens without the knowledge of the user. Similarly, it also has a facebook spy, whatsapp spy, snapchat spy, etc.
Spyic keylogger
Keylogger is a very powerful feature. It records all keystrokes made by the user. This means that it can even keep track of their credentials, like username and password. So Instagram password hack is not a problem via its keylogger function.
You can use these credentials to log into your Instagram account yourself. You get total access via your ID. You can monitor them for as long as you want.
This technique can be repeated for any other social media account as well.
Spyic message monitor
Spyic has a message monitor that tracks incoming and outgoing SMS. This feature can also come in handy when accessing someone else's Instagram account.
Most people associate their Instagram account with their phone numbers. This allows them to log in using OTP and change the password.
Hence, you can click Reset Password and check your phone for the OTP. Once you've received this OTP, you can use it to change your Instagram's password and log in. Now you can use your phone as much as you want.
You have probably already started using Spyic to hack your Instagram. Well if you don't have it, go to this link and get started now. Last I checked there was a limited time discount available.
Here are a few more ways you can hack an Instagram account:
Part 2: how to hack someone's Instagram without human verification
In the previous sections, we discussed Spyic and how it can be used to conveniently hack Instagram. Tools like Spyic are the best technology has brought us since sliced ​​bread.
However, if you feel that Spyic is not for you, then don't worry. We have another way you can hack Instagram like a pro!
2.1 Cocospy - The simple yet powerful Instagram hack
If you want to know how to hack an Instagram account, Cocospy is the software just for you! It has a simple user interface with all the features neatly neatly embedded in one place.
Cocospy is so easy to use even my grandma can use it (she probably is). It's a popular app that can give you so much more than just Instagram access.
My favorite things about Cocospy are:
Feature-rich interface
The Cocospy interface is equipped with functions. However, you wouldn't have to pull apart every single piece of the webpage to find its features. There's right there, arranged in an easy to use manner.
24 hour surveillance
It keeps an eye on your target phone 24x7. Even when you sleep, it keeps a record of its activity.
Geo-fencing
Cocospy even allows you to set geographic boundaries for the location of the target phone. As soon as the phone exceeds these limits, you will receive a warning. How good is that Good parenting, I would say.
No jailbreak or root
Most of what I've seen in my research requires that you jailbreak or root the target phone. However, Cocospy is something new. It brings you all of these features without the need to root or jailbreak the device.
Web interface
You can monitor all activities and logs through a simple web interface. No need to install an app on your phone or computer. The dashboard opens in any web browser.
Favorable pricing models
Cocospy has different pricing models for different uses. It gives you the option to monitor a number of devices in its premium plan. I would suggest getting longer subscriptions to save more.
You might feel like what I'm talking about sounds too good to be true. Well, you can check out his demo here and see for yourself.
If I were you I would start right now. Don't worry, you are not late.
2.2 How to hack someone's Instagram account without them knowing
Well, you can do it very easily with Cocospy. Cocospy has a built-in Instagram monitor that works so quietly that the other person will never know they are being watched.
All you have to do is create a Cocospy account with a paid subscription. Once it's done, getting started with Cocospy will only take a few minutes. It's a smart app that does most of the setup automatically.
If you have an Android phone, you can follow this Android setup guide. For iOS, you can set up the iOS Setup Guide.
Once it's done, you can conveniently use the Instagram monitor to keep track of someone's Instagram activity. Not only that, but it also comes with Facebook, LINE, and Whatsapp monitoring. Basically, you know everything the other person is doing on the internet.
Read More: 10 Best Instagram Hacker Apps
Part 3: How to Hack Instagram Account Without Downloading
Well, there are other ways to hack Instagram as well. Phishing is a popular method that is used for the same.
However, unlike the first two methods we discussed, hacking Instagram account using phishing can be tricky. You have to do most of the work yourself.
Not only that, but it will also require some prerequisites to be carried out successfully. Here is how you can hack someone's Instagram account using this method.
3.1 What is phishing
Phishing is the method of obtaining sensitive information such as usernames and passwords by disguising it as a trustworthy app or website. It's basically about baiting the victim to enter their credentials while thinking they are securely logged in.
In order to conduct phishing, you need a fake website and email address.
3.2 How to Hack Instagram Online Using Phishing
Phishing hacking can be successful, but it is not easy. To begin with, you send the target person an email that appears to be from an authentic source. This email contains a link that will take you to your designed website.
Once they are on your website, ask them to log into their Instagram account to view the information. To make sure they are doing this, they should actually feel like they are logging into Instagram themselves.
Your fake website should look just like Instagram's login page. The user will (maybe) enter their Instagram login and password thinking they are logging into Instagram.
You need to design your website so that the username and password you entered reach your email. Therefore, when the user logs in to Instagram through your website, you have their username and password !.
As you can see, it is possible to hack an Instagram account through phishing. However, it is not a safe method of shooting. In addition, you have to create a fake website and email.
Not only that, once you have your own website, you need to design the website as well so that it looks authentic. This requires knowledge of web design.
While this method allows you to get the user's Instagram credentials, it has uncertainties about him. If the user is a smart user, there is a good chance they will not log into any suspicious or anonymous link.
Additionally, your phishing link in the email should be enticing enough to the user. Otherwise they wouldn't click on it at all. There's a good chance the user won't open the email at all if the subject line isn't catchy enough.
Another point is 2-factor authentication. As more and more users enable 2-factor authentication, it is hardly possible to hack someone's Instagram account through phishing.
And if the person changes their Instagram password in the future, all of those efforts will be wasted and you will be doomed. You have to start over.
Therefore, if you have the resources, you can try this method. But if I were you I would pull method 1 and 2 over it.
Part 4: How to Hack Instagram Account on iPhone
Hacking someone's Instagram account on iPhone is not a difficult job. All you need to know is how and you can be doing it within minutes. Even that without accessing your phone!
I know Apple has always used a walled garden environment to keep their devices safe. However, technology has advanced and there are smart solutions to break its walls.
Here is how you can easily hack Instagram account on iPhone.
iPhone Instagram Hack
As we saw in Part 3, hacking using methods like phishing can be very confusing, unsafe, and complicated.
In my experience, the best apps I've found for iPhone are Spyic and Cocospy. As I discussed in Part 1 and 2, they have tons of benefits and are easy to use.
For iPhones, however, there are exponentially better benefits. If you want to hack Instagram on iPhone using Spyic or Cocospy, you don't even have to touch the target device!
Yes that's right. For iPhones, all you need is the iCloud credentials of the target device. Once you have them, you can get full data from your Instagram and any other social apps in a matter of moments.
The only thing you have to do is get Spyic or Cocospy and follow the steps we mentioned in the previous sections.
If you use these tools, you won't have to set up again and again. You only have to do it once and you are good to go. You can monitor Instagram on the target device for as long as you want!
Important NOTE
If you hack Instagram on iPhone, please make sure that cloud backup is enabled on the target device. It's also a good idea to turn off two-factor authentication.
Part 5: How to Hack Instagram Account on Android
While Spyic and Cocospy are great tools for Android monitoring, there are other ways to hack Instagram on Android as well.
Copy9 is a popular Android monitoring software that will help you hack Instagram on any Android phone. Copy9 needs to be downloaded to the target device and tracks all activity on it.
It doesn't require you to root the Android phone to use it. To check that Copy9 is good enough, we give you a 2 day free trial period for your account.
Its features include:
Message monitoring
Call monitoring
Social media monitoring
Location tracking
Telephone call recording
Website monitor
With all of its features, Copy9 is an affordable solution for Android Instagram hacking. However, it's not as cheap as the other tools I mentioned.
Takeaways
Trying to hack someone else's Instagram could step into the gray area. Hence, you should make careful decisions to be sure. Always remember:
Never fall for software that advertises Instagram hacking for free. These are usually scams designed to get your private information. In other cases, you will be tricked into downloading apps that contain a virus or malware. Remember, all good things come at a price.
Do not use hacking tools to exploit any person's financial information such as bank accounts, credit card numbers, etc.
Always go for reputable tools with good market exposure, like Cocospy and Spyic. When your private information is at stake, security should always be a priority.
End note
Hacking Instagram isn't hard provided you have the right tool for the job. If you've followed our guide closely, you probably already have access to the target account! You're welcome.
This post is also available in: Deutsch (German) Português (Portuguese, Brazil) Español (Spanish)