Brown tuna when vacuuming
Tuna in a sesame coat by Eveline
STARTER: TUNA IN A SESAME COAT, WASABI MAYONNAISE, ASIAN SPINACH SALAD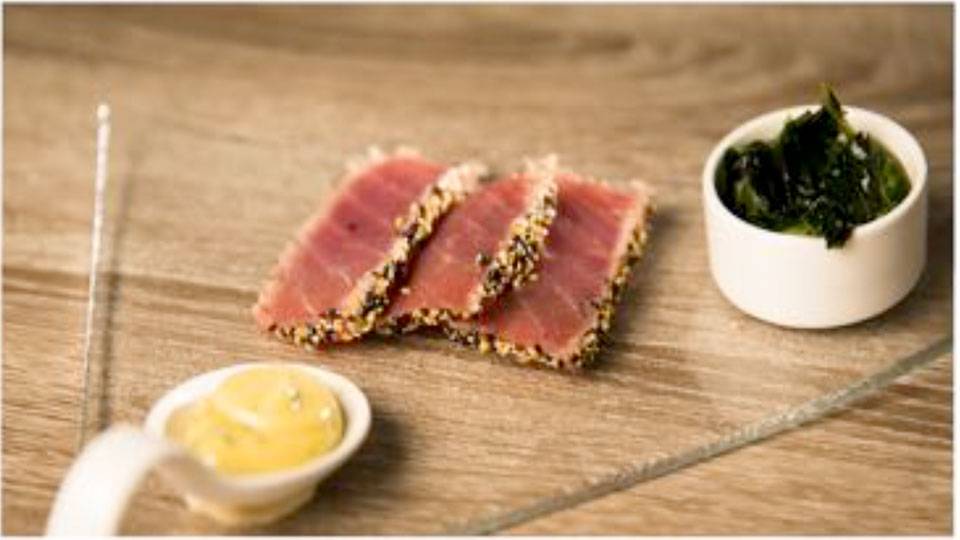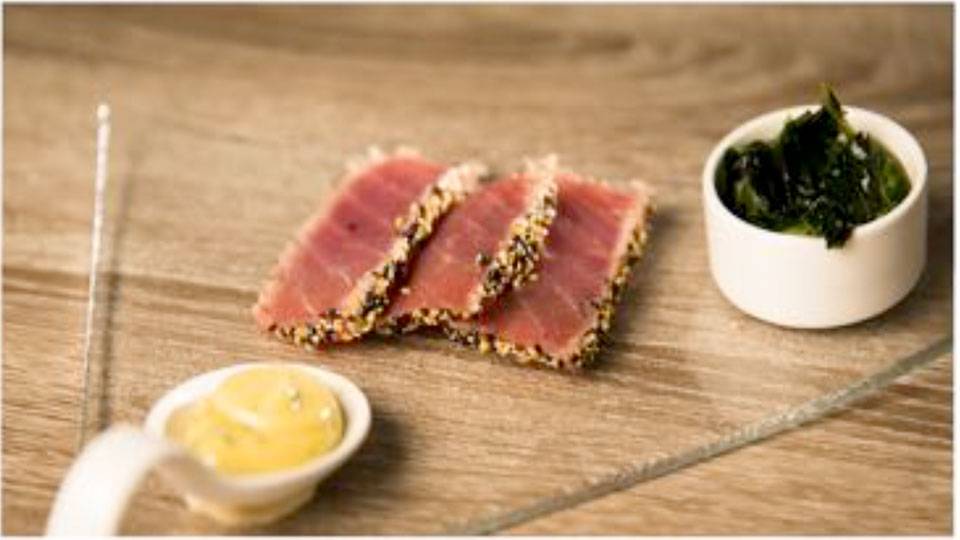 - Sesame-coated tuna
Tuna in a sesame coat
300 g of tuna
salt
pepper
some sesame oil
Approx. 4 tablespoons each of black and white sesame seeds 2 tablespoons sesame oil for frying
Halve the tuna medallions depending on their thickness and marinate with salt, pepper and sesame oil. Mix the sesame seeds and place in a plate. Bread the tuna with the sesame seeds. Heat the sesame oil in a frying pan and fry the tuna briefly so that the sesame takes on a little color, depending on the thickness, a maximum of 1-2 minutes on each side. Cut slices with a sharp knife and serve immediately.
Wasabi mayonnaise
1 fresh egg yolk
1 teaspoon mustard
1 teaspoon lemon juice
1.5 dl sunflower oil 3 tsp wasabi paste
1 tbsp soy sauce a little coriander
Mix egg yolks, mustard and lemon juice in a bowl with a whisk. Stirring constantly, pour in the oil drop by drop at first, then gradually pour in until you have a nice mayonnaise. Stir in the wasabi, soy sauce and finely chopped coriander and season to taste. Serve with the tuna.
Asian spinach salad
200 g leaf spinach, fresh 4 teaspoons of raw sugar
4 tsp soy sauce
4 teaspoons rice vinegar
4 teaspoons of lemon juice
2 teaspoons sesame oil
Salt (be careful with salt! Depending on the soy sauce, you may not need any more salt), pepper
Prepare the spinach leaves, wash and drain well. Put in a vacuum bag. Heat the remaining ingredients over low heat to dissolve the sugar. Let cool and add to the spinach.
Vacuum the bag with the spinach leaves and knead a little. Let the spinach marinate in a cool place for at least 60 minutes. Carefully knead a little by hand before opening.
MAIN COURSE: LAMB RACKS WITH PORT WINE BALSAMICO SAUCE, PROSECCO CELERY RISOTTO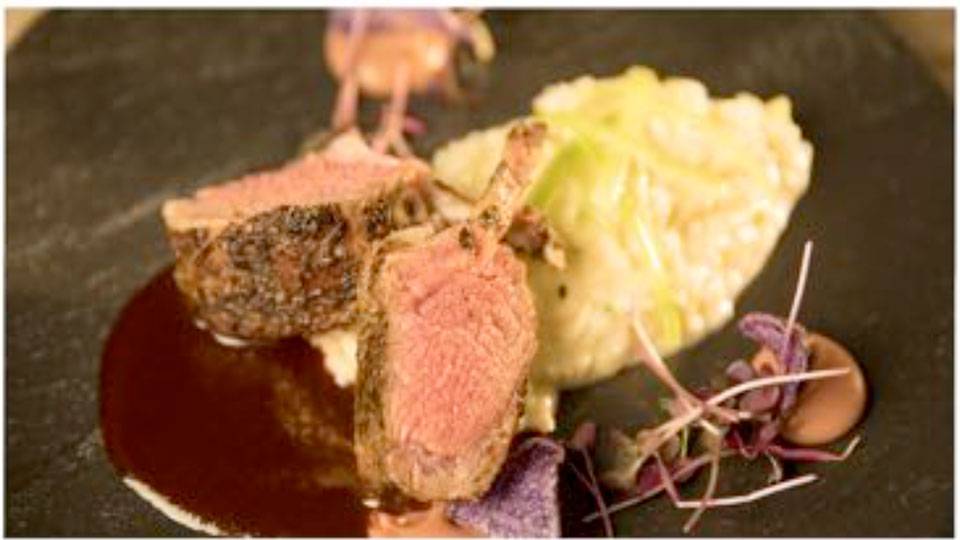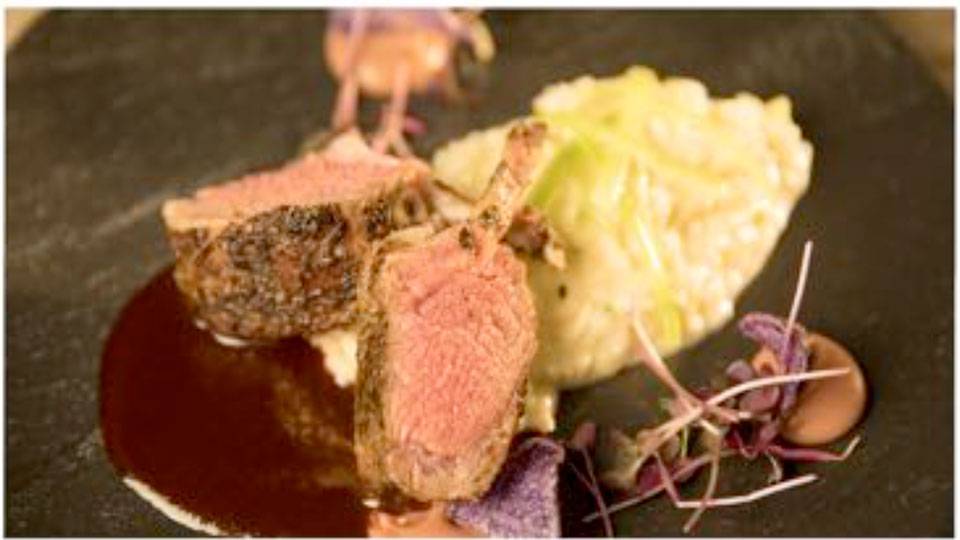 Rack of lamb with port wine balsamic sauce
Lamb racks
1-2 racks of lamb, depending on size and hunger, some mint
some thyme
some rosemary
1-2 cloves of garlic 2 tablespoons of olive oil
salt
pepper
Cut the garlic into slices and briefly toast in a little olive oil. Chop the herbs and add to the olive oil together with the garlic. Marinate the rack of lamb with it and then vacuum seal. If possible, leave to marinate for a few hours or overnight.
Steam at 58 ° C for approx. 45-60 minutes. Take the racks out of the bag and fry them in a little oil. Cut the racks along the bones to serve. Present the cut surface and sprinkle with a little fleur de sel.
Balsamic butter
2 dl red port wine
2 dl red wine
2 dl veal stock
1 tbsp tomato puree
fresh herbs (e.g. rosemary, thyme) 1 teaspoon honey
salt
pepper
2-3 tbsp good balsamic vinegar
Put the port wine, red wine, veal stock, tomato puree and herbs in a wide pan and cook over high heat until it is reduced by about half. Pour the sauce through a sieve and remove the herbs. Season well with honey, salt, pepper and the balsamic vinegar and boil down again until a slightly thick sauce is formed.
Tip: A good sauce takes time! The longer it is boiled down, the better it tastes. If you like it, you can add a little ice-cold butter to the sauce at the very end - this binds it even better and gives it a fine taste.
Prosecco celery risotto
30 g butter
1 onion
2 stalks of celery 300 g risotto rice
approx. 3.5 dl dry Prosecco approx. 6 dl chicken stock
2-3 tbsp mascarpone parmesan
salt
pepper
Peel the onion and chop finely. Cut the celery into small cubes. Cut the green of the celery into fine strips. Melt the butter in a pan and sauté the onion until translucent. Add the risotto rice and sauté briefly, deglaze with approx. 1/3 of the prosecco. As soon as the Prosecco has boiled down a little, add the bouillon and the remaining Prosecco by ladle and cook over a low heat, stirring constantly, for about 20 minutes. Then add the celery and cook until the risotto is firm and creamy.
As soon as the risotto is creamy (after approx. 25-30 minutes), reduce the heat and mix in the celery green, mascarpone and parmesan. Let it steep for about 2 minutes and season with salt and pepper. Serve immediately.
Blue potato and feta puree
200 g blue potatoes 10 g butter
0.5 dl milk
a bit of salt
30 g feta (depending on taste)
Peel the potatoes, cut into small cubes and place in a vacuum bag with the butter, milk and salt. Steam the bag softly in the steamer at 85 ° C for approx. 25-30 minutes.
Take the soft-boiled potatoes out of the bag and place in a blender jar. Crumble the feta a little and add it to the still hot mass. Puree immediately. To taste. Put in a piping bag and keep warm until use.
Garnish with blue potato chips and purple sprouts.
DESSERT: TORRONE-FLAN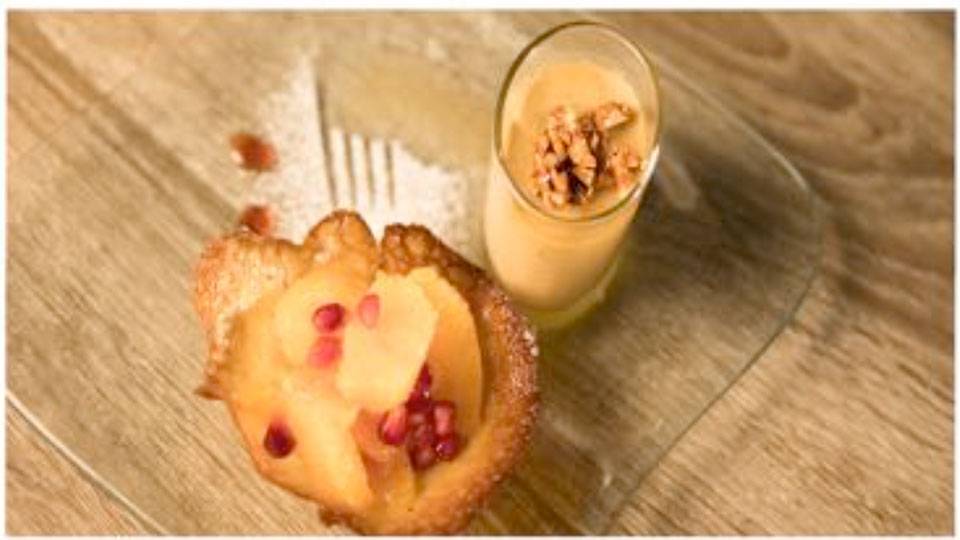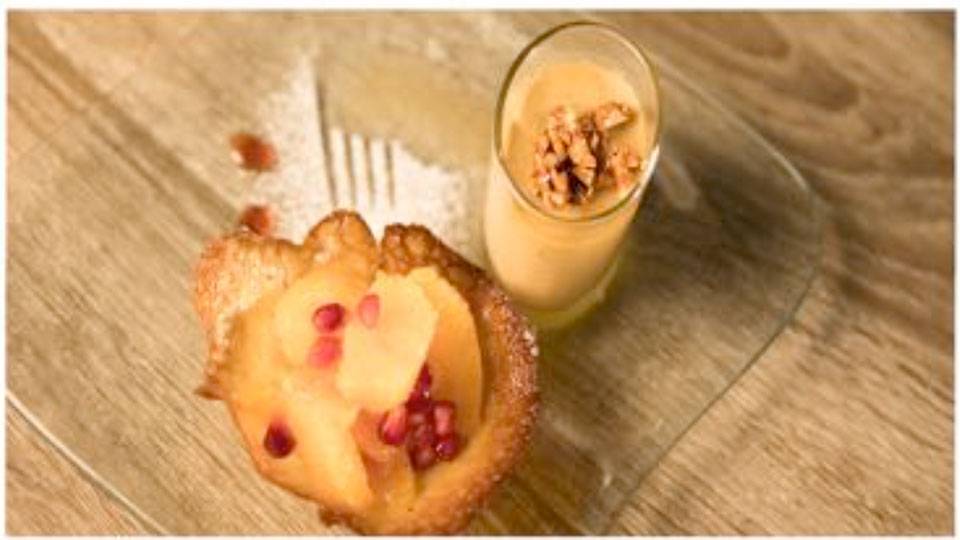 Torrone flan
2.5 dl whole milk
2.5 dl full cream
50 g cane sugar
100 g Torrone Mandorla (Italian nougat) 5 egg yolks
Heat the milk, cream, sugar and the coarsely crumbled torrone together in a small pan over low heat until the torrone has melted (approx. 15 minutes). Let something stand and pass through a sieve.
Whisk the egg yolks well, add to the lukewarm or cooled liquid and mix well. Place 4-6 glass or souffle molds on a perforated sheet and pour in the mixture. Steam in the steamer at 90 ° C for 30 minutes. Let cool down.
set
approx. 30 g flaked almonds
2 tbsp cane sugar
Seasonal fruits (e.g. strawberries, grapes, oranges)
Caramelize the almond flakes or almond sticks with the sugar in a frying pan. Prepare fruits. Sprinkle the flans with the caramelized almonds and garnish with the fruit.
Honeycomb
30 g butter
25 g honey
50 g powdered sugar 25 g flour
Mix all ingredients and put the mixture in a cool place. Preheat the oven to 220 ° C (hot air). Shape into small balls (nut-sized) and place on a baking sheet lined with paper. Calculate a distance of approx. 3 cm between the individual balls.
Deco option: Bake at 220 ° C for approx. 4-5 minutes. The mass must be smooth and have a honeycomb pattern. Take out the tray and let it cool down.
Basket option: Bake at 220 ° C for approx. 4-5 minutes. The mass must be smooth and have a honeycomb pattern. Remove the tray and, as soon as they can be detached, place the honeycombs over a glass bowl or a rolling pin and let them cool down. Be careful - you will have the best results here if you bake a maximum of 2 baskets per operation.
Store in a dry place on kitchen paper.
Tip: You are completely free with the shapes as well as the size. If you would like a larger basket (e.g. for serving several ice cream scoops), simply twist a larger scoop out of the base mixture and then bake it. The honeycombs can also be left flat and look so nice as a decoration on a dessert.