Brummel and brown spread where available
Lentil mango curry spread on home-baked wholemeal bread
For a few months now, I've been paying more attention to making as many of my staple foods and basics as possible myself - for example, I no longer put bought muesli or vegetable stock powder in my bag. One thing that I have often resolved to do myself, and where there is still a bit of a problem, is bread and spreads. Ok, for bread I have found a good source of supply for delicious and healthy bread through my organic box - and when it comes to topping, I'm just too much a cheese fan to often eat other things on bread. It's a shame, because spreads can be incredibly versatile!
Fortunately, the blog event on the subject of spreads that Diana from Cooking is hosting with Diana at the saucepan gave me a nudge in the right direction. I had made up my mind to take part, so yesterday I came up with a spread that was really exactly to my taste. Carrots and red lentils form an exotic liaison with mango, chilli, curry and turmeric, and lime juice and maple syrup ensure the right balance of sweetness and acidity. The result was so delicious that I like to leave my beloved cheese bread and cheese bread for a moment and enjoy my vegetarian spread!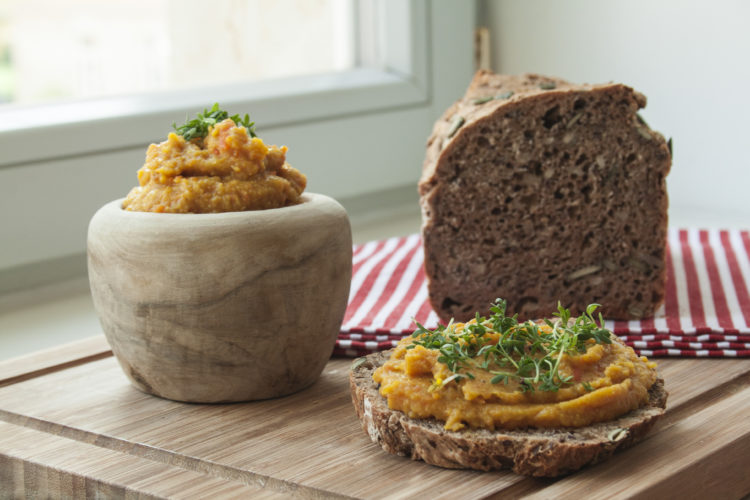 And while I was busy preparing my breakfast for this week, I also baked the bread myself. It's a very quick and easy wholemeal spelled bread with different seeds (for me pumpkin seeds, sunflower seeds, flax seeds and sesame seeds) that I recently saw at Eat this and saved immediately. The bread is mixed together super quickly, absolutely sure to succeed and impresses with its strong, hearty taste. And of course it also went wonderfully with my self-made spread 🙂
Recipes
Lentil and mango curry spread
for 350g (approximately enough for 10 slices of bread)
2 small carrots
100g red lentils
1 shallot
1 dried chilli pepper
1 tbsp olive oil
2 tsp turmeric powder
3 teaspoons of curry powder
1 mango
Lime juice (approx. 2 tbsp)
Maple syrup (approx. 1 tbsp)
salt
Peel the carrots, first cut into strips and then into small cubes. Put together with the lentils in a small saucepan, cover with water, cover and bring to the boil and cook for about 10 minutes until soft. Pouring off.
In the meantime, peel the shallot and dice it finely. Finely chop the dried chilli. Peel the mango, cut the pulp from the stone and roughly dice. Heat olive oil in a small pan, add diced shallots and chilli and sauté over medium heat for 3 minutes. Add turmeric and curry and fry briefly (about half a minute, the spices should only smell, but not burn). Add the mango cubes and fry briefly.
Put the carrots, lentils and the mango-shallot-spice mix in a bowl and puree with the hand blender. Season to taste with lime juice and maple syrup until you achieve a pleasant balance of sweet and sour (the quantities given above are a guideline, but it may be different for you). Then season with salt. At the end, if necessary, add a little curry, if you would like it to be spicier or more intense.
The spread can be kept in a well-sealed jar or can in the refrigerator for approx. 4 - 5 days.
source
own recipe
Whole grain bread with seeds
for a loaf of bread (baked in a 28 cm loaf pan)
7g dry yeast
1 teaspoon brown cane sugar
500g wholemeal spelled flour
50g pumpkin seeds
50g sunflower seeds
50g flaxseed
50g sesame seeds
2 teaspoons of salt
4 teaspoons of mixed seeds as a topping
Mix the dried yeast and sugar together with 500 ml of lukewarm water and set aside. Mix the remaining dry ingredients in a bowl. Gradually add the yeast mixture to the flour mixture and knead into a smooth, slightly sticky dough in a food processor or with the dough hook of the hand mixer.
Cover the dough with a clean kitchen towel and let rise in a warm place for at least an hour until the dough has roughly doubled.
Preheat the oven to 200 ° C top / bottom heat. Place the dough in a loaf tin lined with baking paper and smooth it out. Top with the remaining seeds.
Bake the bread on the middle rack for 40 minutes. Then take it out of the baking pan, remove the baking paper and bake for another 10 minutes. Let cool down and enjoy!
source
Eat this
You might be interested in that too