How to Combine Emojis on iPhone
Insert Snapchat emoji and smileys: resize and rotate
03/12/2015 - 5:45 p.m.
How can I insert, resize and rotate emoji and smileys in Snapchat? Some time ago we received a funny snap from our circle of friends, where we saw large smileys or emoji, and we quickly asked ourselves how did the person get these smileys into the Snapchat picture and how could they be in this way change the size? We were looking for an answer and we found it, it is possible and you can find out how it works under the following paragraphs in this article. The prerequisite is, of course, that you have installed the emoji, which should already have happened on most smartphones and operating systems with Android and iOS on the iPhone.
Here's how you can use emoji in Snapchat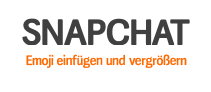 Instructions: Insert, resize and rotate Snapchat Emoji
Under iOS or on the iPhone, you can simply insert this in the new version of Snapchat directly via the keyboard by taking a picture and then calling up the tab for the smileys on the keyboard. On some Android smartphones this is just as possible and sometimes you have to use a trick. To do this, first open the app as usual, take a photo and insert a text on it. As soon as the keyboard opens, you just have to hold your finger on the keyboard on "Done" (where you would otherwise close the keyboard) and the normal QWERTY keyboard will switch to the emoji selection. This was often reported under older Android versions on the Samsung Galaxy S5, S4 and S3, although this is certainly more due to the fact that the smartphones are so popular and widespread.
Resize and rotate smileys and emoji
So now we know how to put the emoji on a picture in Snapchat, but how did the person get this smiley face so big and how can you rotate it? To be able to do this, you first have to download the new version of Snapchat for Android or your iPhone (iOS). Because this function was not always available in the app, but has only apparently been added recently and is very easy to use. As soon as you have placed the emoji on the created image, you can simply make it larger and smaller with the "zoom gesture" and rotate it with the "rotate gesture". Many of you probably know the gestures from apps like Google Maps or Google Earth. Very simple and a great feature, so that you can finally use large smileys in Snapchat.
Do you have any questions or does it not work as described under Android or on your iPhone? If so, just write to us using the comments section.