Wholesale catch all dishes
Appreciate more, waste less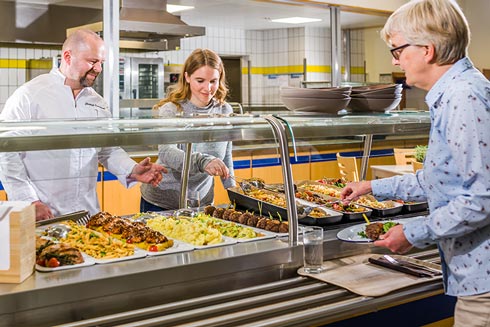 We also want to reduce food waste in our company restaurants
Active in 2 sectors
According to a study commissioned by the Federal Ministry of Food, Germany generates 12 million tons of food waste every year along the entire food supply chain. This is the conclusion reached by the Johann Heinrich von Thünen Institute. The supply chain was divided into 5 sectors:
Primary production
Processing of food,
Private households
Out-of-home catering
Wholesale and retail
And so the national dialogue forum "Too good for the bin", which has been carried out by the Federal Ministry of Food and Agriculture (BMEL) since 2012, is divided into these 5 individual sectors. There, together with food companies, civil society organizations, representatives from the responsible state and federal ministries and science, concrete measures against food waste are developed. For each sector, goals are to be defined and suitable options for implementation found.
It goes without saying that CHEFS CULINAR is campaigning for the "Wholesale and Retail" and "Out-of-home catering" dialog forums and is involved with two representatives in the development of specific measures. And we start with ourselves: All company restaurants in our branches have made the 2030 Agenda their mission and are keen to use various measures to reduce food waste.
In the future we will talk about the work of United Against Waste e. V. and our actions for a more respectful handling of food. You can be curious!